Diaper is one of the most essential item for parents with newborn and young children. It's an essential item because babies pee and poop frequently throughout the day, toddlers are not at the age where they can go to the toilet on their own and some children might have no control over their bowel and bladder movements yet. There are many brands and types of diapers available in the market and it can be daunting to choose the right one as each has its own unique features and benefits. When it comes to choosing diapers for your little one, it is important to consider these factors:-
Comfort – Your baby will be wearing diapers almost 24/7 so finding a diaper that is soft and breathable will keep your little one happy
Absorbency – Some diapers are more absorbent than others and leave your baby's skin dry even when they're full
Leak protection – The elastic that goes along the leg holes of diaper should fit snugly without being too tight & prevents leakage
Affordability – Some diaper brands are more expensive but worth the price. There are also low-cost diapers that won't break the bank but still keep your babies comfortable and prevent leaks
Eco-friendly & hypoallergenic – For parents who are conscious about the impact of diapers on the environment and their baby's health
Disposable Diapers Brands
Applecrumby diapers are Chlorine Free, seriously dry and absorbent, crazy feather soft and just plain gorgeous.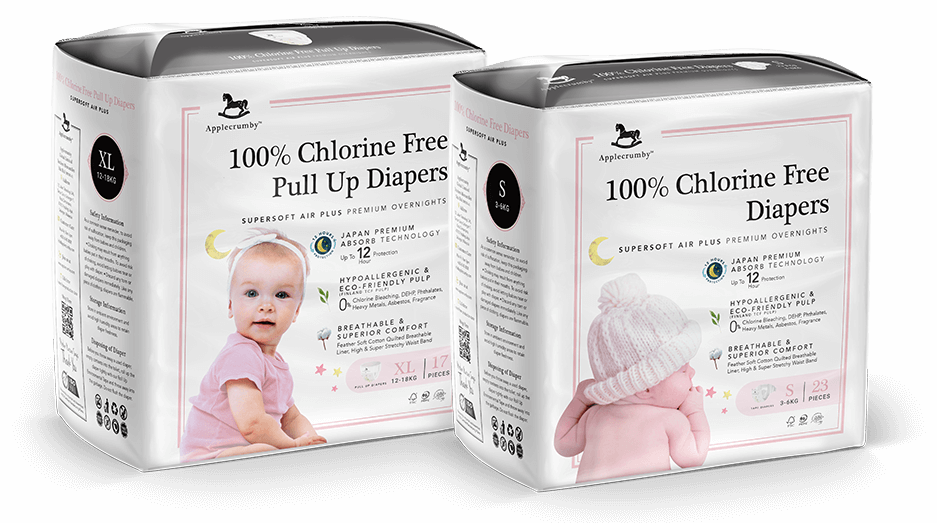 Diapex baby diaper is designed to perform better and give your little one a comfy fit over time. They are made to fit securely with superior absorbency. With DIAPEX Baby diapers, you will have peace of mind knowing that you're using quality products and that your baby is happily dry and comfortable.
Drypers strive to be a great fit in every aspect — products and features that meet your needs, solutions that let your baby develop freely, ideas that make parenthood more fulfilling, efforts that align with your eco-friendly beliefs. How wide or long the shape is, elastics that hug your baby's curves, the way everything is securely held up (and in!), and many special features that enhance dryness and comfort. All these ensure that Drypers will always fit your needs while keeping baby happy and comfortable, at every stage of growth.
Genki diaper is softer on Baby's Skin & More Absorbent for Longer Wear and Comfort
Image credit www.genki.com.my
A Japanese Brand Established in 2002. GOO.N preserves the precious skin of your baby, from their first moments through their transition to potty training. Each active, healthy childhood is filled with unexpected surprises. GOO.N soft and gentle products promote clean, healthy skin, moment to moment. You can trust your baby's skin is dry and protected.
Hoppi mission is to bring premium quality baby products to mums at the lowest price.
Image credit www.hoppi.com.my
From natural cotton, all night absorbency to Little Swimmers, Huggies Diapers have it all covered.
MamyPoko Softest to Skin diaper , awarded No. 1 Mom's Choice in Japan for 3 years in a row.
Merries continually delivers products that contribute to the baby's healthy physical and emotional development, with the aim to be the most "gentle to the skin" baby diaper in the world.
Molfix is unique because it introduces Malaysian moms with NATURAL ABSORBENCY WITH BAMBOO FIBERS and SOFTNESS WITH ORGANIC COTTON This first time ever technology of Molfix that integrates natural absorbent bamboo fibres into the extra dry layer, makes absorption much faster and easier. Also, Molfix provides the most delicate care for your baby's skin with its surface with organic cotton. With Molfix, your baby feels extra dry & comfortable at all times
An award-winning brand offering all-natural baby essentials include chlorine-free baby diapers. Their ultra-thin diaper offer quick-drying for ultimate comfort. Look good, feel good, and stay protected with their chlorine-free diapers in trendy design.
Choose Your Bundle of Joy. From everyday wear to overnight sleep, PetPet have the right diaper to always keep your little one smiling.
Affordability is a big factor when choosing baby diapers. You'll be surprised at just how much value you can enjoy with Whoopee and how comfortable Whoopee can keep your little ones happy. By combining great quality with unbeatable prices, mothers are happy too!